During this uncertain period, as the pandemic continues, and until further notice our booking terms and a Covid 19 – cancellation policy are set up with the maximum possible flexibility for our guests.
The charterer will not lose his/ hers down payments in case of an official border closure in Greece or closed border from the country of origin at the time of departure. The down payment (voucher of equal value) can be used for any charter in the future, according to our availability and rates.
Request availability for your preferred dates.
This can be done per email.
In less than 24 hours you will receive via email the confirmation of availability.
We will then, if you like, forward you the Charter Agreement/ Booking Form, as well as our Terms & Conditions.
Booking Confirmation
Please fill in your details in the Charter Agreement/ Booking Form, sign it as well as the Terms & Conditions and email them back to us.
From this point on your booking will be confirmed and upon payment of a deposit within the next few days your booking will be completed.
Payment
A deposit (10% of the total fee) is required in order to complete the booking. Two months prior to your sailing trip a second payment of 40 % of the total charter fee is needed to confirm your booking. The remaining balance (50 % of the total charter fee) may be paid either any day before the date of embarkation or latest upon embarkation.
 Please choose one of the following three payment options:
(1) Transfer your deposit payment to our bank account

(Wire transfer).
Account name: ALEGRIA YACHTING MCPY
Bank details: ALPHA BANK
IBAN: GR7701403590359002320005851
SWIFT/BIC: CRBAGRAA
(2) Pay online by Debit or Credit card.
Click the button below, and in the new window click Next. Fill in the amount, and your email address. Click Proceed to Payment and you will be redirected to the secure environment of Alpha Bank in order to pay the deposit online.
Note:When using this method no transaction fees apply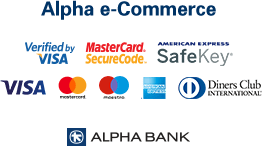 (3) Make an online payment through PayPal

Click the PayNow button. You will then be directed to the Alegria Yachting PayPal Merchant Page. Fill in the amount and click Continue. From here you have two options:
1.If you have a PayPal account please log in and proceed with the deposit payment.
2. If you don`t have a Paypal account you can pay using your Debit or Credit Card.
Note: When using the PayPal method, the charterer is responsible to cover the transfer fee charged by PayPal. This fee differs, according to your country (between 3,4% and 4,9% + Fixed Fee). For more information, please visit PayPal Fees
Cancellation
You may cancel your arrangements at any time provided that the cancellation is communicated to us in writing. The cancellation charges as shown below will apply from the date, the written cancellation request is received by us.
For bookings cancelled:
more than 90 days before embarkation an administration fee of 70 Euros is retained
between 90 and 61 days before embarkation 50% of deposit is retained
between 60 and 31days before embarkation 75% of the deposit is retained
from 30 and fewer days before embarkation the whole amount of the deposit is retained
Important Notice!
If there are officially ordered exit or entry restrictions in the course of the season that make participation in the sailing trip impossible, all payments made will be credited for an unlimited period of time for later settlement.